MY LUCKY LIFE BEHIND THE BINOCULARS
Luminaries from the horse racing world gathered at Melbourne's Mail Exchange Hotel last October for the launch of race commentator Greg Miles' much-anticipated book: My Lucky Life Behind The Binoculars.
Caribou's managing director John Craven collaborated with the record-breaking caller on the book. Miles described an amazing 40,000 races, including 36 Melbourne Cups, before taking early retirement in 2017.
In his thought-provoking Foreword in the 230-page memoir, the iconic multi-sports commentator Bruce McAvaney wrote: "In this country, we pride ourselves on having the best race callers in the world and many believe Greg Miles sits alongside Bill Collins as our finest."
The race calling fraternity was well-represented at the launch. Tasmania's premier commentator Colin McNiff, a long-time mate of Greg's, flew in from Hobart for the occasion. Gerard Whateley, Bryan Martin and Ray Benson were also there. So was Peter Booth, a mentor of Greg's when he started out at the ABC in the early 1980s.
Former Racing Victoria chairman Michael Duffy, ex-Warrnambool Racing Club presidents Margaret Lucas and Des Roberts, Briseis Club boss Benn Ward, VRC Melbourne Cup tour organiser Joe McGrath, the "Punting Priest" Fr. Joe Giacobbe, and popular retired jockeys Peter Hutchinson and Alf Matthews joined dozens of Greg's family, friends and media representatives at the function.
The book was launched by Greg's protégé Matthew Hill who conducted a wonderfully entertaining interview with his mentor. Matthew, a Melbourne Western suburbs boy just like his early adviser, has slipped neatly into Greg's shoes as the voice of Victorian racing on Racing.Com, RSN, Sky Channel and Channel 7.
---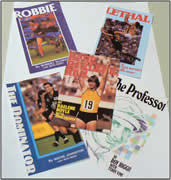 CARIBOU PUBLISHING
SELECTIVE PLAYER, GREAT TITLES
Caribou's unique publishing arm continues to flourish and is actively engaged in the creation of several books, set down for future release.
The company's publishing enterprise began in 1983 when Caribou's managing director John Craven collaborated with the celebrated sprint queen Raelene Boyle on her captivating autobiography RAGE RAELENE, RUN.
Then followed the best-selling autobiographies of the distinguished jockey Roy Higgins (THE PROFESSOR, with Terry Vine) and Australian rules football legends Leigh Matthews (LETHAL, with Mike Sheahan) Robbie Flower (ROBBIE, with Ron Reed) and Wayne Johnston (THE DOMINATOR, again with former Herald Sun sports editor Reed).
Caribou's publishing activities extended beyond sport. Company secretary Bernadette Craven for many years produced the pioneering annual course handbook for the LINCOLN INSTITUTE OF HEALTH SCIENCES. The distinguished author-journalist Bill Hitchings wrote an intriguing Caribou-inspired book on Melbourne's landmark Manchester Unity building (GRAND DREAMS AND GRAND MEN).
More recently, John Craven collaborated with the popular race broadcaster John Russell on his autobiography AN OUNCE OF LUCK, and also wrote the acclaimed history of the iconic Melbourne to Warrnambool Cycling Classic
(THE 'WARRNAMBOOL').
Craven, the ex-Geelong Advertiser-Launceston Examiner-Melbourne Herald journalist, linked with the record-breaking Melbourne Cup commentator Greg Miles on writing his outstanding autobiography MY LUCKY LIFE BEHIND THE BINOCULARS.
Copies of MY LUCKY LIFE, signed by Greg, may still be purchased through PayPal on this website.
Details of Caribou's exciting new releases will also be announced on this site as they become available.
---