GREAT SOUTH COAST TOUR
2021
GRAND RETURN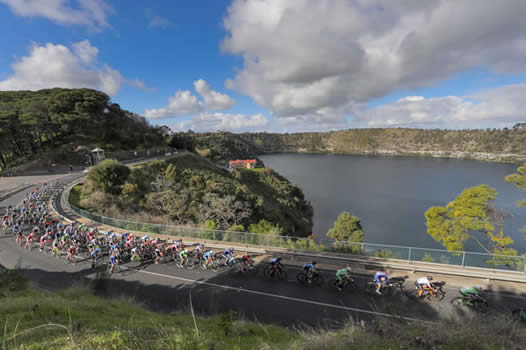 TOUR OF THE GREAT SOUTH COAST ON 2021 AGENDA
Caribou's signature event, the cross-border Tour of the Great South Coast, is scheduled to make a grand return to Australian road cycling in 2021.
Founded in 2012, the six-day tour was thwarted by the Corona virus in 2020, but will be a key component of AusCycling's ambitious National Road Series calendar when, hopefully, upper-level bike racing resumes its regular pattern.
AusCycling has listed the tour to be conducted from Tuesday, August 31, to Sunday, September 5. The first three days are programmed for South Australia, with the final three in Victoria's Glenelg Shire.
Caribou's managing director John Craven has received in-principle backing from its three South Australian tour municipalities – the City of Mount Gambier, Naracoorte Lucindale Council, and the District Council of Grant.
The Glenelg Shire Council has supported the tour for all of its 10 years and is currently working alongside Caribou to create a three-day women's event, to be held tentatively from September 3-5.
"Glenelg Council, combined with AusCycling, is driving this innovation and it is hoped to receive firm commitments from Government authorities within the next two months," Craven said.
"The response to the tour's re-introduction from councils, sponsors, teams, cyclists and the media has been first class."
AusCycling's sport general manager Kipp Kaufmann said the programmed return of the Great South Coast Tour was a "terrific boost" for the 2021 National Road Series.
He said more details of the proposed men's and women's events would be released as they become available.